ANNOUNCEMENTS FOR THE WEEK OF MARCH 20, 2023
THOSE SERVING IN GOD'S HOUSE TODAY:
GREETERS: 8:00 a.m.: Keith & Michele Sorenson
10:30 a.m.: Ginnie Wiebelahus, Korrine Van Crete
NEXT WEEK: 8:00 a.m.: Wayne Peterson
Mike & Teena Taivalmaa
10:30 a.m.: Pete & Lori Badtke Family
NEXT WEEK POWERPOINT: 8:00 a.m. Sherry Jones
10:30 a.m. Any volunteers???
USHERS: 8:00 a.m.: Mike Fox, Aspen Fox, Sawyer Fox,
Katelyn Richter, Kendra Richter,
Elmer Rosanske, Darrin Zinecker, capt.
10:30 a.m.: Steve Jones, Bob Frandy, Brian Jones, Bill
Jones, Bob Grams, capt.
MIDWEEK LENT SERVICE USHERS WEEK #4: Team # 1
EASTER FLOWERS: Please sign up on the bulletin board for flowers for Easter. Choices are Lilies ($10.00) or Mums ($10.00). Place money for flowers in an envelope with your name and put it in the offering plate by TODAY, Sunday, March 19.
EASTER BREAKFAST: Will be held in the Fellowship Hall on Easter morning between services approximately 8:15 a.m. Tickets are available on the table in the Narthex. Please pick them up so the men have an idea how much food to prepare. Tickets are free but a freewill offering will be taken at the breakfast Easter morning. INVITE your family and friends to join us! REMEMBER: Pick up tickets for them also.
PLEASE SIGN UP: Men and boys are needed to set up, prepare, serve, and clean up the Easter Breakfast. ALSO NEEDED: Sweet rolls, orange juice, and milk. Sign up in the Narthex. THANK YOU!
LENT: Lent is a season when we take a look at our lives in view of God's mercy towards us, sacrifice of his Son for us on the cross. We, in turn, are called by God, especially during this time of repentance and reflection, to be living sacrifices for him, displaying our devotion to him in word and deed. Jesus helps us to see the richness of God's mercy in his life, death and resurrection. Each Wednesday during Lent we will have services at 1:00 p.m. and 7:00 p.m. with Soup and Sandwiches at Noon and 6:00 p.m. The theme for our Lenten Services will be "Places of the Passion". Lent #4 (March 22) "Places of the Passion: The Courtyard"; Lent #5(March 29) "Places of the Passion: Pilate's Judgement Hall".
CONCORDIA SEMINARY, LAUDAMUS CHOIR: Each year, the Laudamus choir from Concordia Seminary, St. Louis schedules tours throughout the country. As part of its current tour, the group will be singing in Wisconsin churches in the communities of Mequon, Plymoth, and Sheboygan. If you would like to attend one of these concerts, please check the dates and time on the bulletin board in the Narthex.
CARD PARTY: Because we had so much fun at the 1st Card Party, we have planned the second one for Thursday, April 13th. We will have a "build your own" sub sandwich lunch at 11:00 a.m. following the LWML/Men's Network meetings. The Card Party will start around 11:30 a.m. (for those who aren't coming for lunch). There is a sign-up sheet on the bulletin board.
LENT SOUP/SANDWICH SUPPER SERVING GROUPS: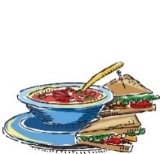 Wed., March 22 – Helping Hands Group #2
Wed., March 29 – Helping Hands Group #3
(All free will offerings will go to Fellowship Fund.)
SPECIAL THANKS TO CALVARY HELPING HANDS GROUP #1: For providing last Wednesday's delicious Soup & Sandwich Supper. Your generosity and "good cooking" are blessings to our entire congregation. THANK YOU!