ANNOUNCEMENTS FOR DECEMBER 4, 2022
THOSE SERVING IN GOD'S HOUSE TODAY:

GREETERS: 8:00 a.m. Mike & Teena Taivalmaa Family
10:30 a.m. Norm & Carol Custer
NEXT WEEK: 8:00 a.m. Mike & Melissa Fox Family
10:30 a.m. Korrine Van Crete, Lois Warnke
USHERS: 8:00 a.m.: Mike Fox, Aspen Fox, Sawyer Fox, Katelyn
Richter, Kendra Richter, Elmer Rosanske,
Tom Nechkash, capt.
10:30 a.m.: Steve Jones, Bob Frandy, Brian Jones, Bill
Jones, Bob Grams, capt.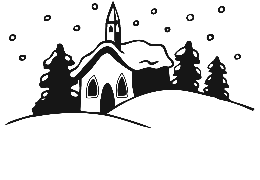 GOD'S POWER AMONG US:
Sunday: 8:00 a.m. – 37
10:30 a.m. – 33
Sunday School: 9:15 a.m. – 10
Adult Bible Class: 9:15 a.m. - 17
† † †
NEEDED: SALVATION ARMY BELL RINGERS! Please sign up to ring the bell Saturday, Dec. 10 at the Princeton Piggly Wiggly. Money raised provides food, shelter, warm coats, and help with heating and utility bills for Green Lake County. Please sign up today. Sign-up is on the bulletin board in the Narthex. Thank you!
JOINT CHRISTMAS GATHERING: On Thursday, December 8, the Calvary LWML and the Men's Network Bible Study will gather at "Christiano's" Restaurant in Green Lake to have dinner together. (We will be dining in the main restaurant.) ALL MEN AND WOMEN ARE INVITED. Please sign up on the bulletin board to attend this December celebration.

MITTEN TREE: Our temperatures are beginning to drop! Remember to start collecting mittens, gloves, scarves & hats of all sizes. If you knit, crochet, or sew, handmade items are also accepted. All items are donated to the needy of Green Lake County. Items will be collected until December 12th.
CHILDREN'S CHRISTMAS PROGRAM: "The Amazing Christmas Story" will be one part of the December 18th Sunday service. There will be only one service on that day at 9:30 a.m. and Holy Communion will be served. Cookies, bars, coffee and juice will be served in the Fellowship Hall after the service.
RED OR WHITE POINTSETTIAS: Will be ordered to adorn the sanctuary for Christmas. Each plant will cost $9.50. Sign up on the bulletin board and place an envelope in the offering plate with your flower payment by December 7th. Flowers ordered only if they have been paid for.
MIDWEEK ADVENT SERVICES: "Angels: The Ultimate Devine Messengers of Hope" will be the theme for this year's Midweek Advent Services. "The Angel Gabriel brings a Message of Hope in the Midst of Unbelieving Doubt; Week #2 (Dec. 7) "An Angel of the Lord Brings a Message of Hope in the Midst of Fear of the Unknown; Week #3 "The Angel Gabriel Brings a Message of Hope in the Midst of the Seemingly Impossible. Please join us at either the 1:00 p.m. or the 7:00 p.m. Midweek services to prepare our hearts for Christmas.
ADVENT SUPPERS: Before each Midweek Advent Service we will have a Potluck Meal. The Potluck lunch will be at noon and the Potluck Supper will begin at 6:00 p.m. with services following each meal. If you plan on attending either of the potluck meals, please bring a dish to pass.
THANK YOU TO THOSE WHO BROUGHT A DISH TO PASS DURING LAST WEEK'S ADVENT SUPPERS: Everything was delicious and it was a great time for Fellowship.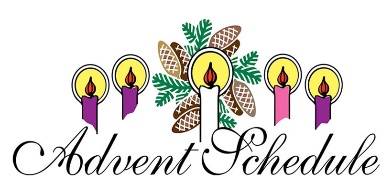 Midweek Services: Nov. 30, Dec. 7 & 14
1:00 p.m. & 7:00 p.m.(Potluck at Noon and 6:00 p.m.)
Regular Sunday Times: Dec. 4 & 11
8:00a.m. & 10:30 a.m.
Special Sunday Service Times:
Dec. 18: 9:30 a.m. Christmas Program part of regular worship service (1 service)
Dec. 25 & Jan. 1: One Service only at 9:30 a.m.
Christmas Eve: 7:00 p.m. Candlelight Service(HC)